Handmade With In Hong Kong
Hi, I am Kylie! Creating high quality leather products is my passion. On this website you can order some of the fruits of my labor. My handmade cell phone cases are the perfect accessory for your precious smartphone. Check out my latest designs below.
All my cases are available for iPhone 6, the iPhone 5S and the iPhone 6 Plus. For other phone models please contact me.
[products ids="1422,1408,1397,1374,1327,1294,1276,903″ orderby="menu_order" order="asc"]
Give Your The Perfect Home
And after that give one to your friends smartphone, too! People tell me my handmade phone cases make great gifts, no matter if for a birthday, Christmas or another event.
Why Order One Of My Leather Phone Cases?
Since you already found this site I probably won't have to tell you about all the good reasons for protecting your phone with a handmade leather case but here we go anyways:
Uniqueness – Since my phone cases are entirely made by hand there is no mass production. While I have sent cases to happy customers in dozens of countries you are unlikely to ever run into anyone else with such a pretty case around his or her smartphone. 🙂
Quality – I select and choose all the materials I use in making these phone cases myself. Like that I can make sure the leather is truly genuine and of the highest quality.
Durability – Leather is a great material! It is not only beautiful but also resistant and durable. My guess is that your phone will break much earlier than my phone case.
Personality – My products are handcrafted from start to finish. What you order here is a truly unique product you can find nowhere else.
Open To The Whole
My phone cases have travelled to lots of places. I have happy customers in over 20 countries, including Australia, the US, UK, South Africa and many in Europe.
How To Order Your Own Handmade Phone Case?
Well, it is really easy actually. Simply click on your favorite design above, choose your cellphone model and finish checkout by paying with Paypal. That's all: I now get to work and will send out your new leather phone case as fast as possible!I also have a store on Amazon.co.uk, so if you prefer you can order there with your existing Amazon account. This is also a great option if you don't want to pay via PayPal, since Amazon offers many different payment methods.
Shipping & Handling Details:
When you order one of my handmade phone cases I will send it out within 1 to 2 days! The Hong Kong post needs about 10 to 14 days to bring your new phone case to most places in the world, including the UK, USA and Europe.
Customer satisfaction is my main priority, so order with confidence: Should there be an issue with any of my handmade phone cases I will gladly take it back or offer you a replacement.
News and Information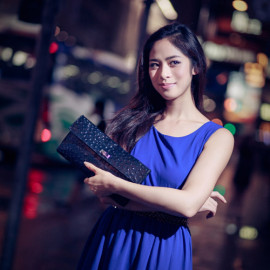 This are the photos of a modelling session I did with my friend Jasmine and a few of my handmade leather bags in my hometown of Hong Kong. I think they turned out... READ MORE